Wise County Public Schools will operate on a CODE 3 Schedule tomorrow, Friday, January 13, 2023. Code 3 is a virtual learning day for students. Instruction will begin at 10am following the virtual learning schedule issued by your child(ren)'s school.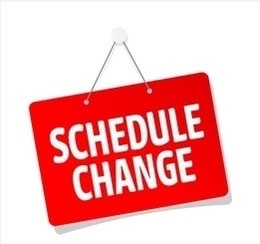 In the event that Wise County Public Schools must alter its schedule due to inclement weather during the 2022-2023 school year, the following alternate schedule codes will be utilized.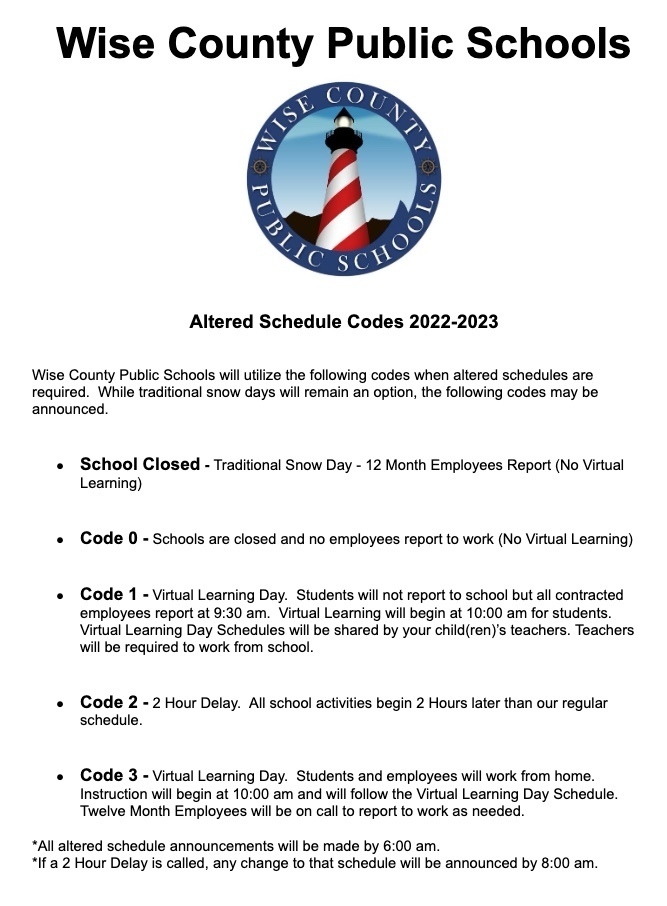 This is a reminder that schools are CLOSED on Monday and Tuesday (11.7.2022 and 11.8.2022). We look forward to welcoming our students back on Wednesday, November 9, 2022.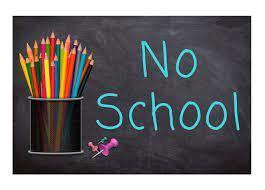 *Update* Coeburn Middle School students are being bused to Eastside High School where they will remain until dismissed this afternoon. Parents are welcome to come pick up their students at any time. All parents who pick their children up in the afternoons will do so from EHS.

Coeburn Middle School has had an issue with an A/C unit that triggered a fire alarm. Everyone has evacuated the building and is safe. The fire department and our maintenance staff are inspecting everything and we expect everyone to safely return to the school very shortly.

From our Special Education Department:

The VDH has scheduled flu clinics to be held at each of our schools per the schedule below. Pre-registration required at
https://redcap.link/lenoflu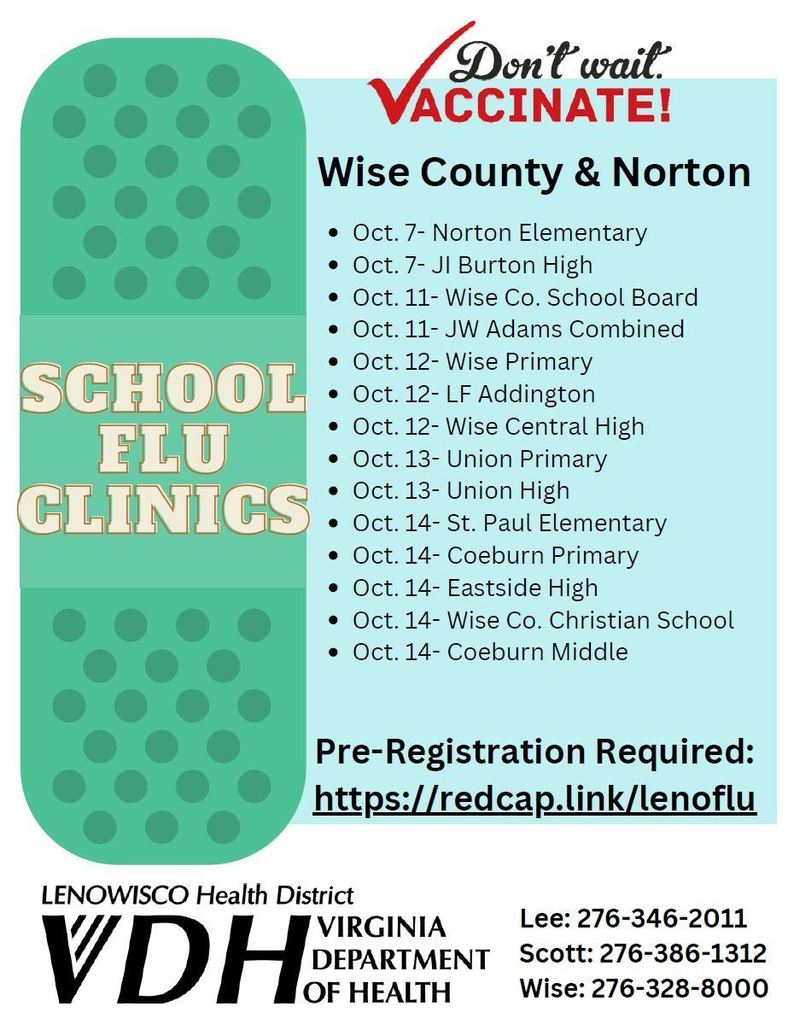 P-EBT Phishing Scam Alert There is a phishing scam attempt circulating and P-EBT recipients are being asked to call or text a phony 1-866 number ending in 0486 from "VA EBT".  Do not respond to or engage with any unsolicited phone number asking for your card number or PIN. Please be aware that the DSS Client Customer Service Helpdesk will never call cardholders and ask them to activate their cards. Contact the Virginia EBT Client Customer Service Helpdesk at 1-866-281-2448 to report a stolen or compromised card.

Due to a main water line break, all Coeburn area schools (Coeburn Primary School, Coeburn Middle School and Eastside High School) will be dismissing at 1:30pm this afternoon, Friday, March 11, 2022!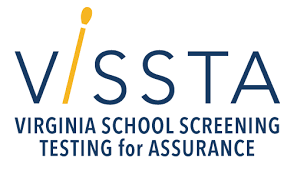 Due to the forecasted weather for tomorrow afternoon (1/6/2022) and the potential impact on travel, Wise County Public Schools will be dismissing at 12:30 pm. Again, Wise County Public Schools will be dismissing at 12:30pm on January 6, 2022!

From our Early Childhood Program: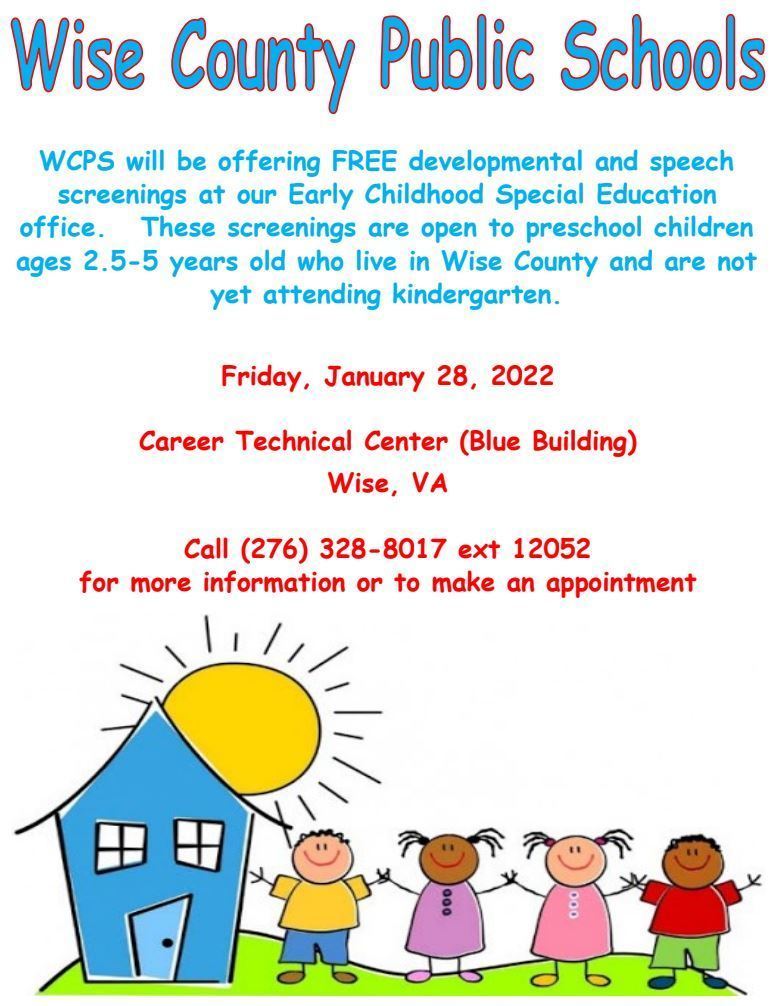 If you would like for your child to have a flu shot please see the nurse to get a consent form or you may download it from our documents page on this website. . All consent forms MUST be returned by Sept 27. The Health department will be here Oct 7.
Picture Retakes & Spring Pictures - March 16 : In Person:9-12 Remote: 12:30 - 1:30 Pictures must be paid when picture is taken. If you need a packet sent home let us know for which student. Also, if you are not planning on having your student's picture taken, please send me a picture of your student via email for the yearbook by March 18th, 2021.
kadkins@wisek12.org

Wise County Public Schools will operate on a CODE-1 today, Monday, March 1, 2021. All schools are closed and students will receive their instruction online.
ATTENTION: 8th Grade Parents/Guardians. If you would like to purchase an ad for your graduating 8th Grader to go in the 2020-2021 Coeburn Middle School Yearbook, please print out the attached form and send it in with the ad and the payment please.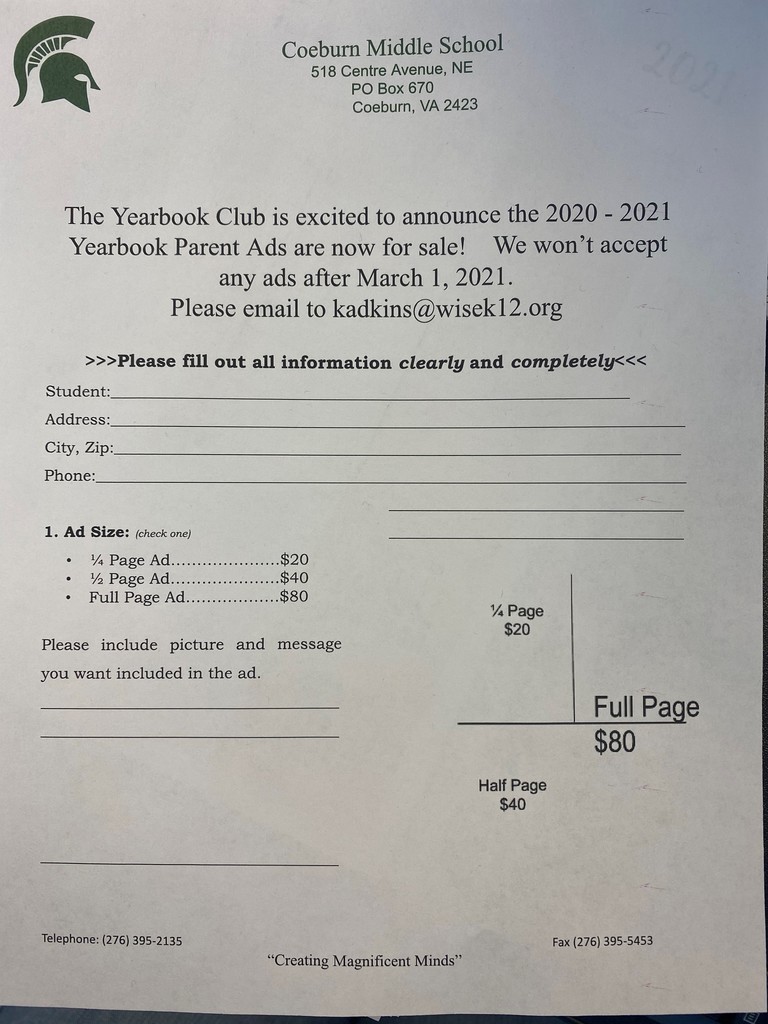 Coeburn Middle School 2019-2020 Yearbooks are here. If you ordered and paid for one last year and have not picked it up, please send a note with your student or give us a call and we can get that to you.