We wish everyone a Happy Thanksgiving! We are thankful for everyone that makes Wise County Schools the best!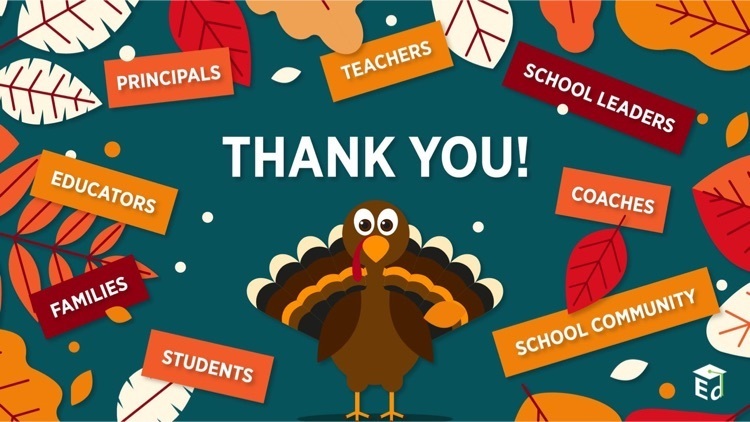 Wise County Schools were represented at today's celebrity bagging event hosted by United Way of Southwest Virginia. Thankful to help out with this event again this year.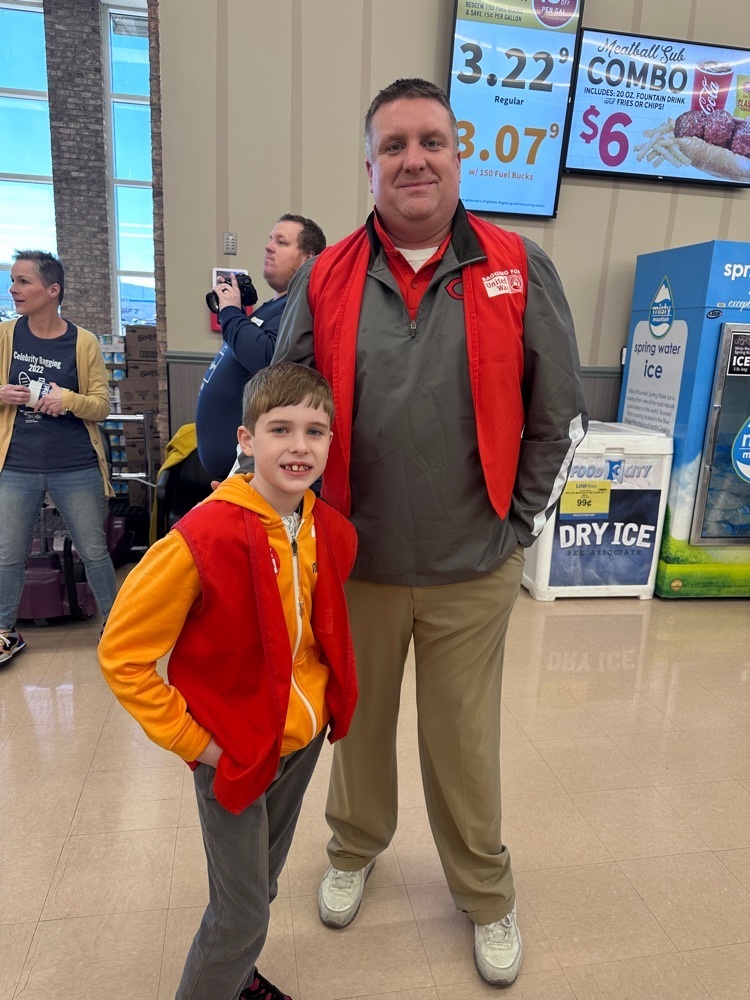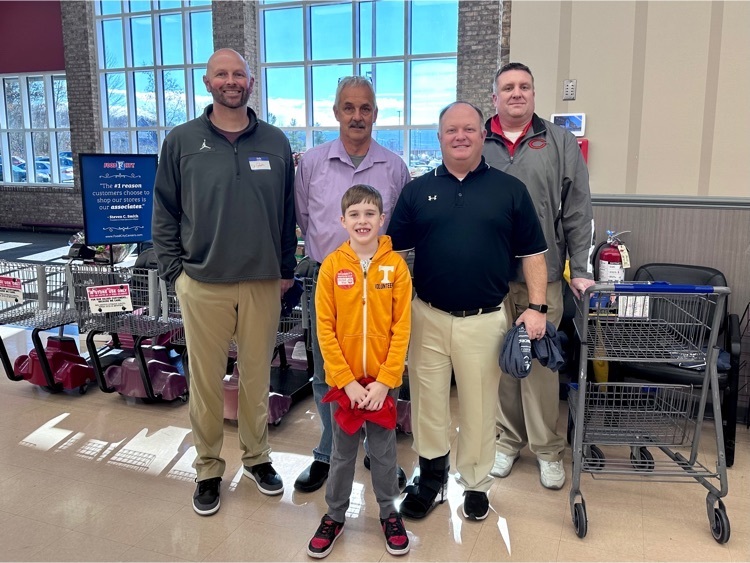 Notification of the Virginia School Survey of Climate and Working Conditions The 2023 Virginia School Survey of Climate and Working Conditions (Virginia School Survey) will be administered in schools beginning January 9, 2023, and ending on February 24, 2023. The survey will be administered to 6th, 7th, and 8th graders as well as our faculty at all our PreK--8 Schools. The Virginia Department of Education (VDOE) and the Virginia Department of Criminal Justice Services (DCJS) partnered to conduct this administration. This is a tool for division leaders and principals to monitor and ensure all students and staff have access to a healthy, safe, and positive environment in which to learn, work, interact, and grow whether remotely or in-person. Student and adult participation is voluntary. Parents or guardians of students must be advised of the survey at least 30 days before administration and offered the option of declining their students' participation. If you would prefer that your 6th, 7th, or 8th grader not participate, please contact your child's school to let the principal know.

Congratulations to the the Central Warrior Men's Cross Country Team on their 2022 VHSL 2A State Championship!

Congratulations to the Union High School Men's Cross Country Team on their 2022 VHSL 2A State Championship Runner-Up finish!

This is a reminder that schools are CLOSED on Monday and Tuesday (11.7.2022 and 11.8.2022). We look forward to welcoming our students back on Wednesday, November 9, 2022.

*Update* Coeburn Middle School students are being bused to Eastside High School where they will remain until dismissed this afternoon. Parents are welcome to come pick up their students at any time. All parents who pick their children up in the afternoons will do so from EHS.

Coeburn Middle School has had an issue with an A/C unit that triggered a fire alarm. Everyone has evacuated the building and is safe. The fire department and our maintenance staff are inspecting everything and we expect everyone to safely return to the school very shortly.

The Wise County School Board enjoyed recognizing the 4-H program at tonight's meeting. Gabe Ringley of Central High School also shared his blue ribbon presentation on offering American Sign Language as a foreign language alternative in schools.

This is a reminder that tomorrow, October 7, 2022) is an early dismissal for students! Students will return on Tuesday, October 11, 2022!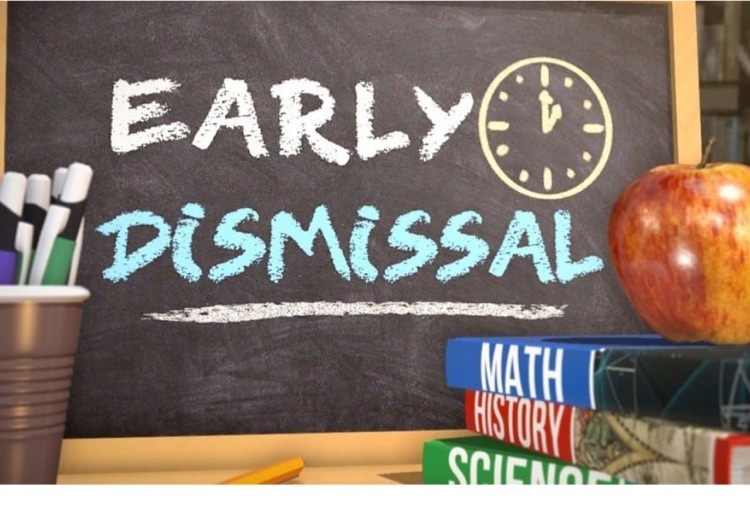 From our Special Education Department: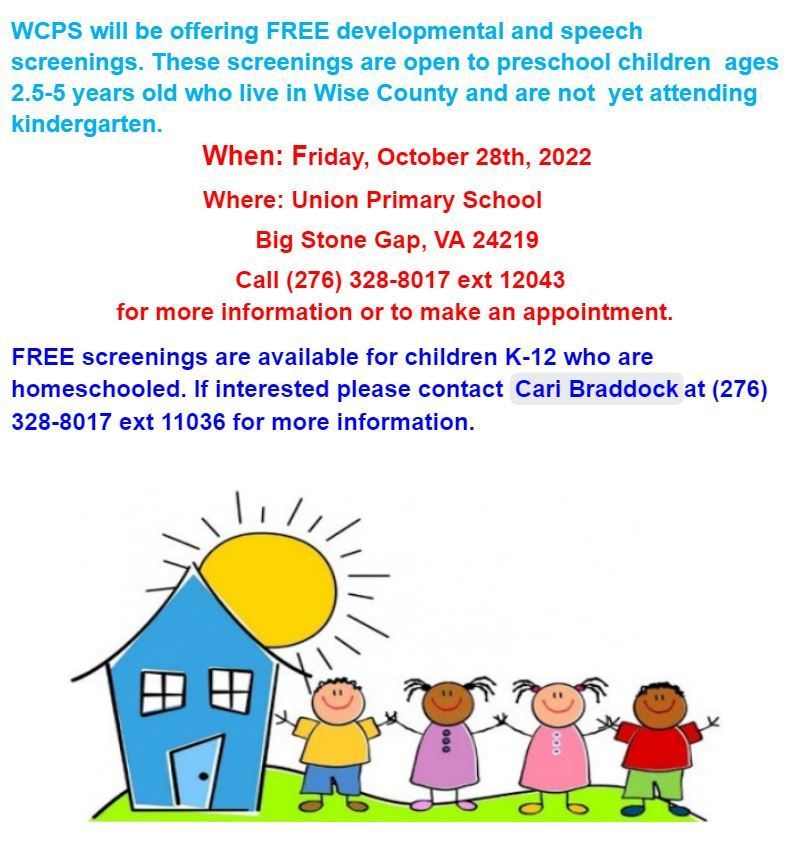 The VDH has scheduled flu clinics to be held at each of our schools per the schedule below. Pre-registration required at
https://redcap.link/lenoflu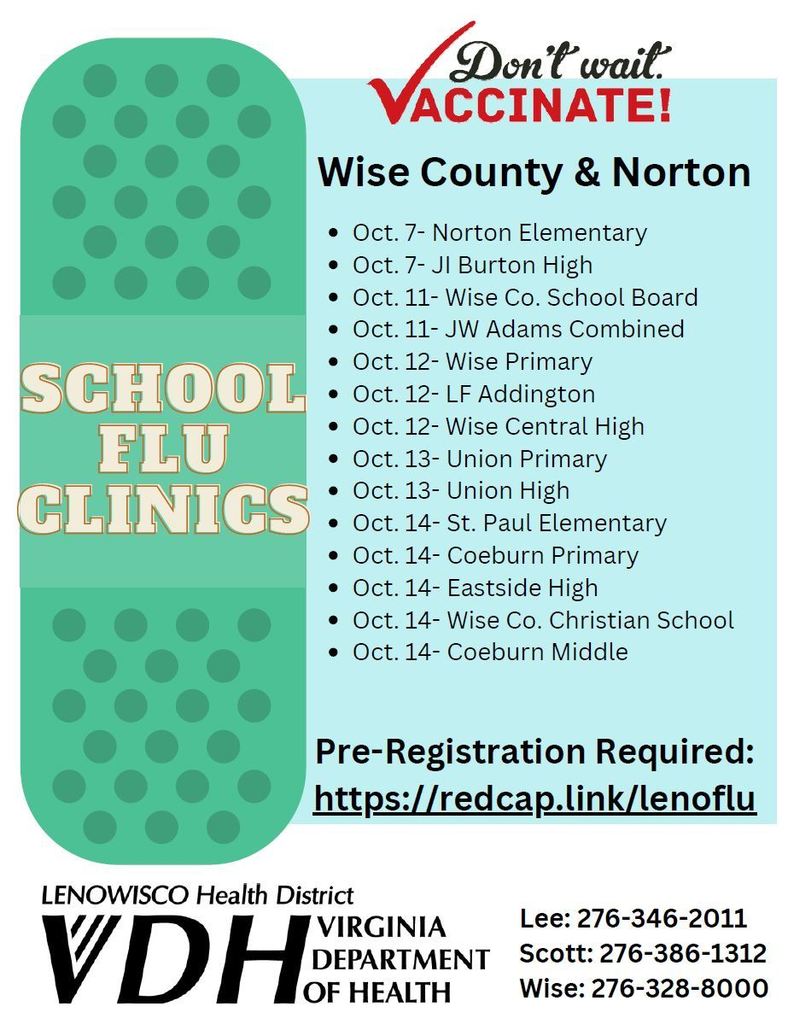 P-EBT Phishing Scam Alert There is a phishing scam attempt circulating and P-EBT recipients are being asked to call or text a phony 1-866 number ending in 0486 from "VA EBT".  Do not respond to or engage with any unsolicited phone number asking for your card number or PIN. Please be aware that the DSS Client Customer Service Helpdesk will never call cardholders and ask them to activate their cards. Contact the Virginia EBT Client Customer Service Helpdesk at 1-866-281-2448 to report a stolen or compromised card.

Step, stomp, tap or clog your way to a live music high-stepping spectacular at J.W. Adams Combined in Pound this Friday, September 23rd at 7:00 PM for a night to remember! All kids and students are admitted free to Pro-Art's Friday night performance from Footworks Percussive Dance Ensemble. "Hot Strings and Flying Feet," tells the story of the many people who came to this land bringing their rhythms and melodies, steps and dances, who met each other here and created new living traditions. A live string band and an exciting array of percussive dances will fill the evening, including step dance, gumboot, tap, clogging, and hamboning. Dancing shoes optional! Adult tickets are $15 at the door. More information at proartva.org.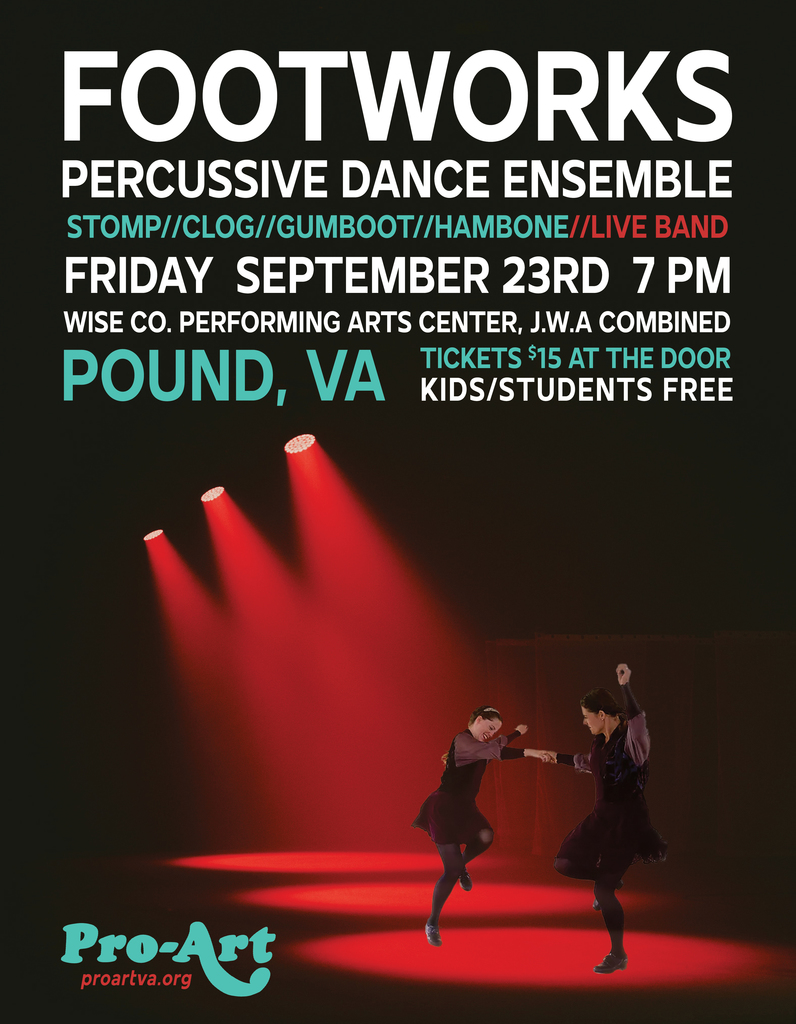 Summer P-EBT Benefits Information This is an update regarding questions we have received about summer Pandemic EBT (P-EBT) benefits. The Virginia Department of Social Services (VDSS) has recently made us aware that many households did not receive summer P-EBT benefits due to a card processing error. We have been informed that affected households will be issued a new P-EBT card and that all cards should be received no later than September 30.  If you recently received a P-EBT card that is not working, a replacement card is already on the way. You do not need to take any action to report your invalid card. VDSS has identified the households affected by this error.  Please do not contact the P-EBT call center to order another card, as this may further delay the processing of your benefits.  We understand this delay has been frustrating and want to assure you that we are in communication with VDSS to ensure the issue is fixed as quickly as possible. Schools are not able to provide answers to your P-EBT questions. Please visit PEBTVA.com for the latest information and guidance concerning P-EBT.

The Virginia Department of Corrections is proud to once again be hosting a Special Needs Fall Ball at Coeburn Middle School on Saturday, October 8, 2022 beginning at 5pm!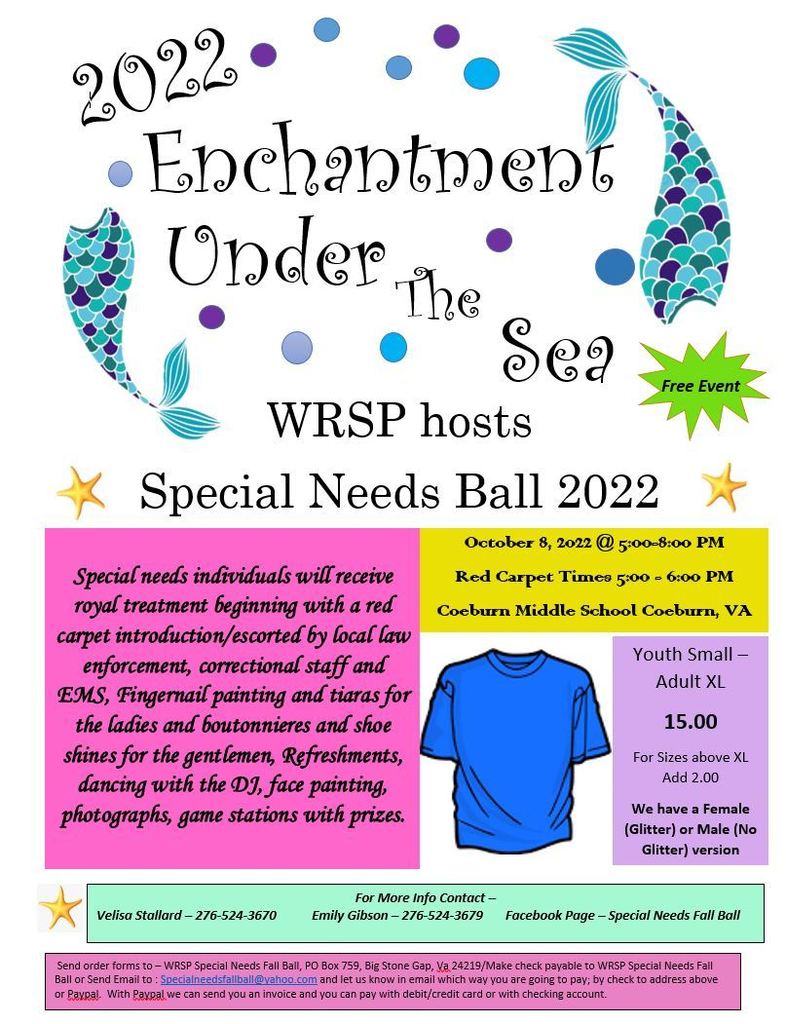 From our Early Childhood Special Education Department: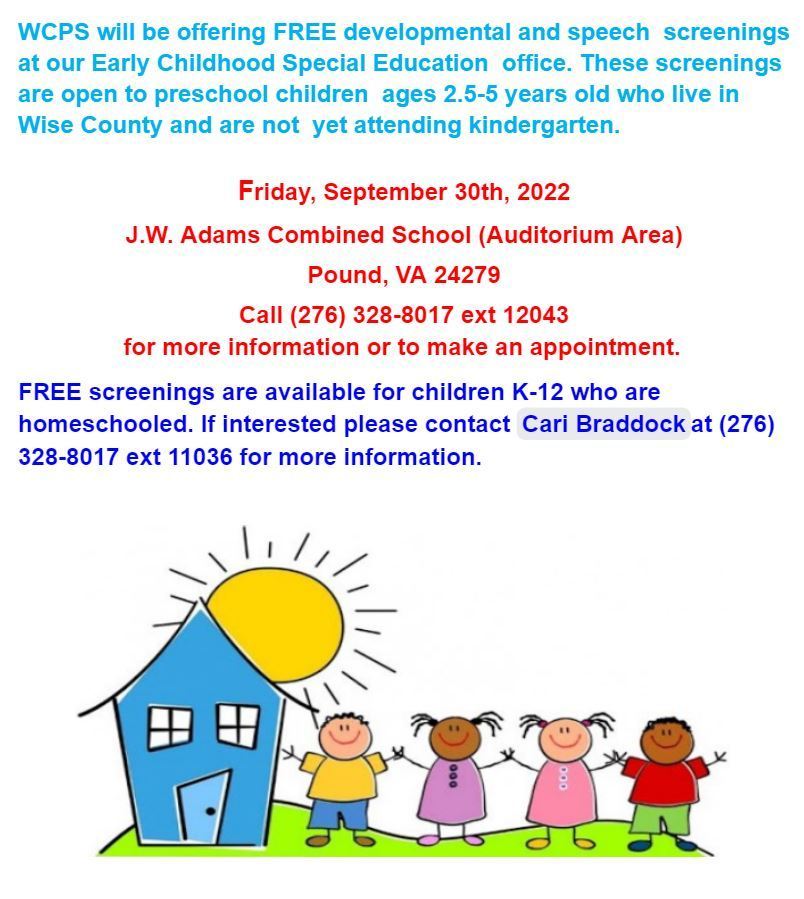 The Wise County Health Department is scheduling appointments for any students that are still needing vaccines to meet school requirements, particularly the meningitis vaccinations for our seniors. You may schedule an appointment by calling 276.328.8000

All WCPS Schools and Offices will be closed tomorrow, Monday, September 5, 2022!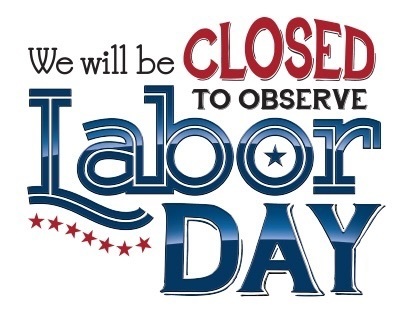 Virginia Department of Social Services Statement on Summer 2022 P-EBT The U.S. Department of Agriculture has authorized the Virginia Department of Social Services to provide Summer P-EBT to K-12 students. All school-age children who attended a school last year, school year 2021-2022, that was approved to participate in the Community Eligibility Provision (CEP) or who were determined eligible to receive free or reduced-price meals are eligible for Summer 2022 P-EBT. All eligible students enrolled during the last month of school year 2021-2022, including new high school graduates, can expect to receive a one-time summer benefit of $391 beginning on August 25, 2022 on their previously issued P-EBT or SNAP EBT card.  If you do not have an existing P-EBT card, or your information has changed since you last received P-EBT, a card will be mailed to the address provided in your student's school record within 7 to 10 business days. To request a replacement for a lost or discarded P-EBT card, contact ConnectEBT at 1-866-281-2448 or logon to 
https://www.connectebt.com/
or download the ConnectEBT app on a mobile device. Contact VDSS with questions about P-EBT at one of the following contact points. Do not contact your child's school or central office for P-EBT information. P-EBT Call Center 7 a.m. - 7 p.m Monday - Friday and Saturdays from 9 a.m. - 2 p.m. at 866-513-1414 or 804-294-1633 or use the P-EBT Online Inquiry Form.