From our Special Education Department: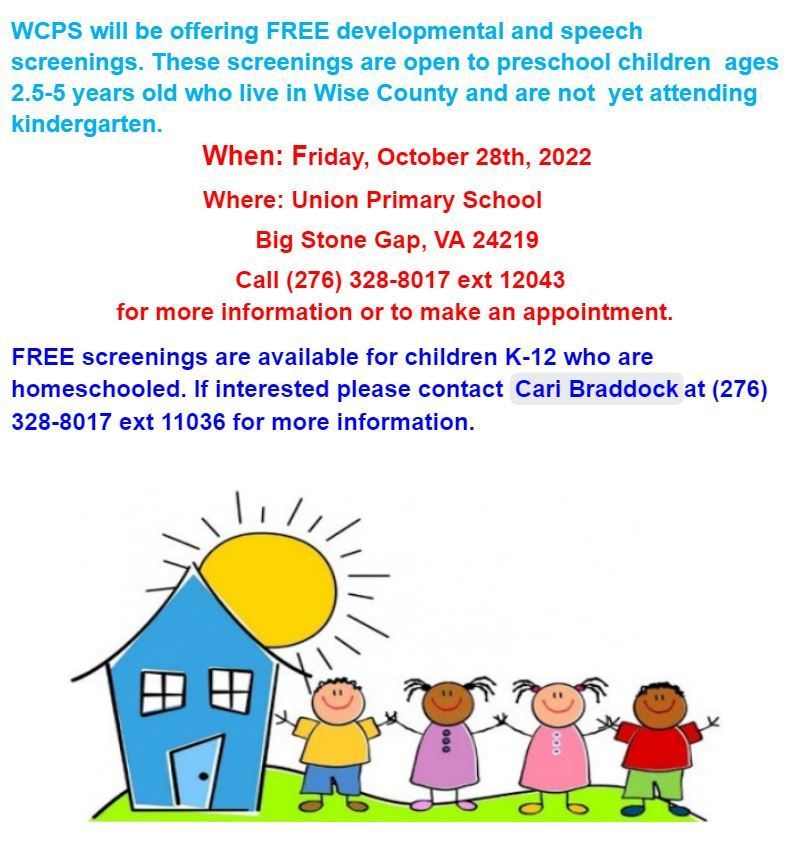 The VDH has scheduled flu clinics to be held at each of our schools per the schedule below. Pre-registration required at
https://redcap.link/lenoflu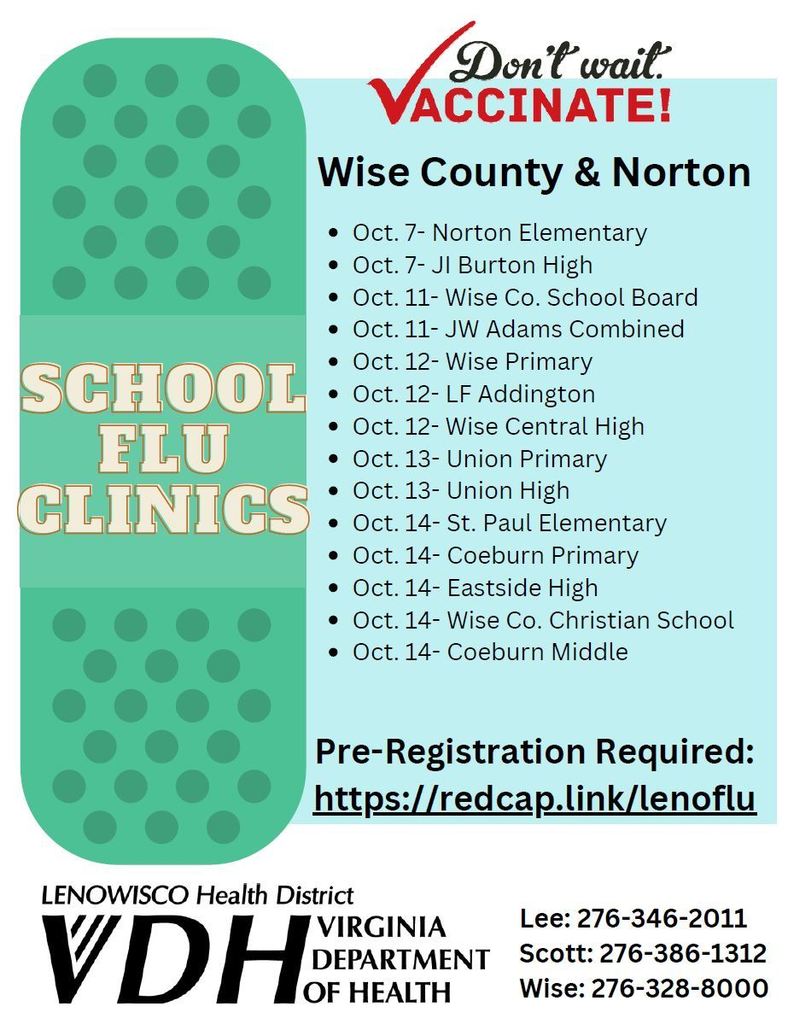 P-EBT Phishing Scam Alert There is a phishing scam attempt circulating and P-EBT recipients are being asked to call or text a phony 1-866 number ending in 0486 from "VA EBT".  Do not respond to or engage with any unsolicited phone number asking for your card number or PIN. Please be aware that the DSS Client Customer Service Helpdesk will never call cardholders and ask them to activate their cards. Contact the Virginia EBT Client Customer Service Helpdesk at 1-866-281-2448 to report a stolen or compromised card.

Step, stomp, tap or clog your way to a live music high-stepping spectacular at J.W. Adams Combined in Pound this Friday, September 23rd at 7:00 PM for a night to remember! All kids and students are admitted free to Pro-Art's Friday night performance from Footworks Percussive Dance Ensemble. "Hot Strings and Flying Feet," tells the story of the many people who came to this land bringing their rhythms and melodies, steps and dances, who met each other here and created new living traditions. A live string band and an exciting array of percussive dances will fill the evening, including step dance, gumboot, tap, clogging, and hamboning. Dancing shoes optional! Adult tickets are $15 at the door. More information at proartva.org.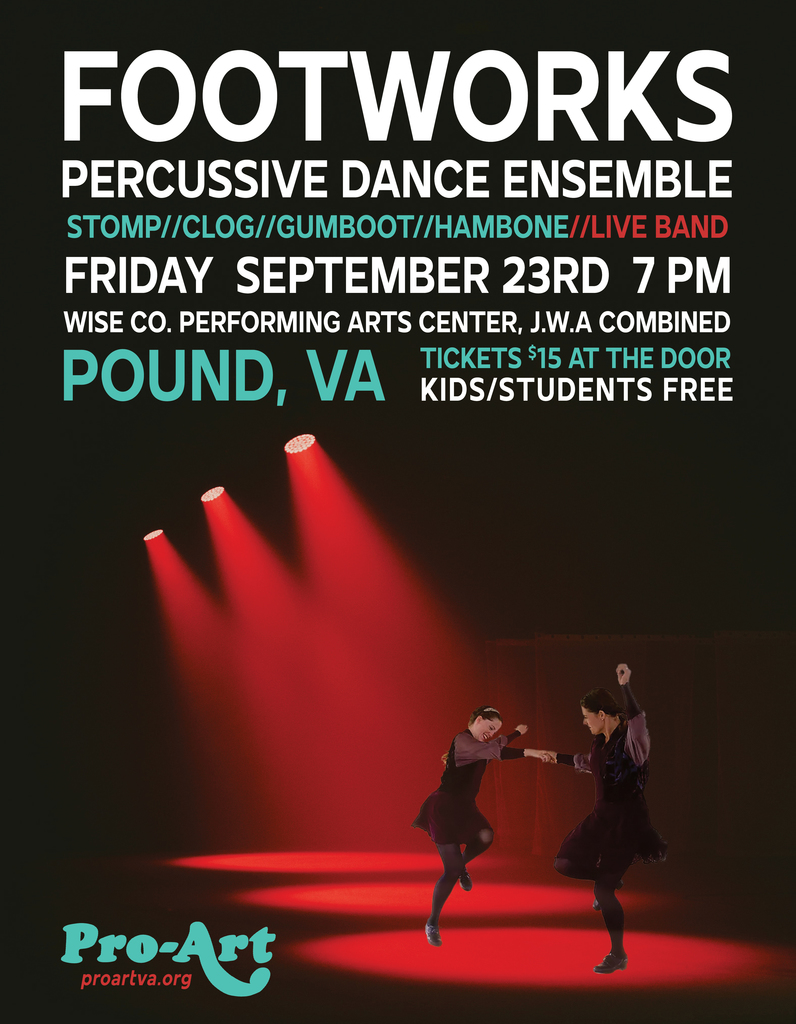 Summer P-EBT Benefits Information This is an update regarding questions we have received about summer Pandemic EBT (P-EBT) benefits. The Virginia Department of Social Services (VDSS) has recently made us aware that many households did not receive summer P-EBT benefits due to a card processing error. We have been informed that affected households will be issued a new P-EBT card and that all cards should be received no later than September 30.  If you recently received a P-EBT card that is not working, a replacement card is already on the way. You do not need to take any action to report your invalid card. VDSS has identified the households affected by this error.  Please do not contact the P-EBT call center to order another card, as this may further delay the processing of your benefits.  We understand this delay has been frustrating and want to assure you that we are in communication with VDSS to ensure the issue is fixed as quickly as possible. Schools are not able to provide answers to your P-EBT questions. Please visit PEBTVA.com for the latest information and guidance concerning P-EBT.

The Virginia Department of Corrections is proud to once again be hosting a Special Needs Fall Ball at Coeburn Middle School on Saturday, October 8, 2022 beginning at 5pm!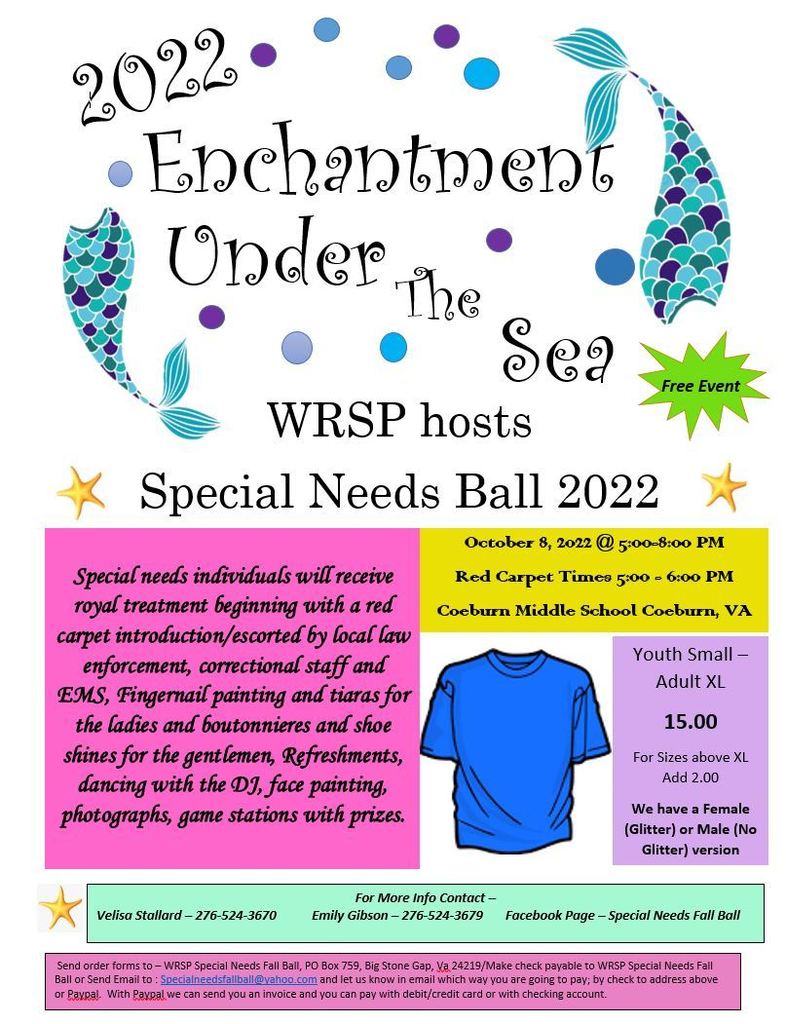 From our Early Childhood Special Education Department: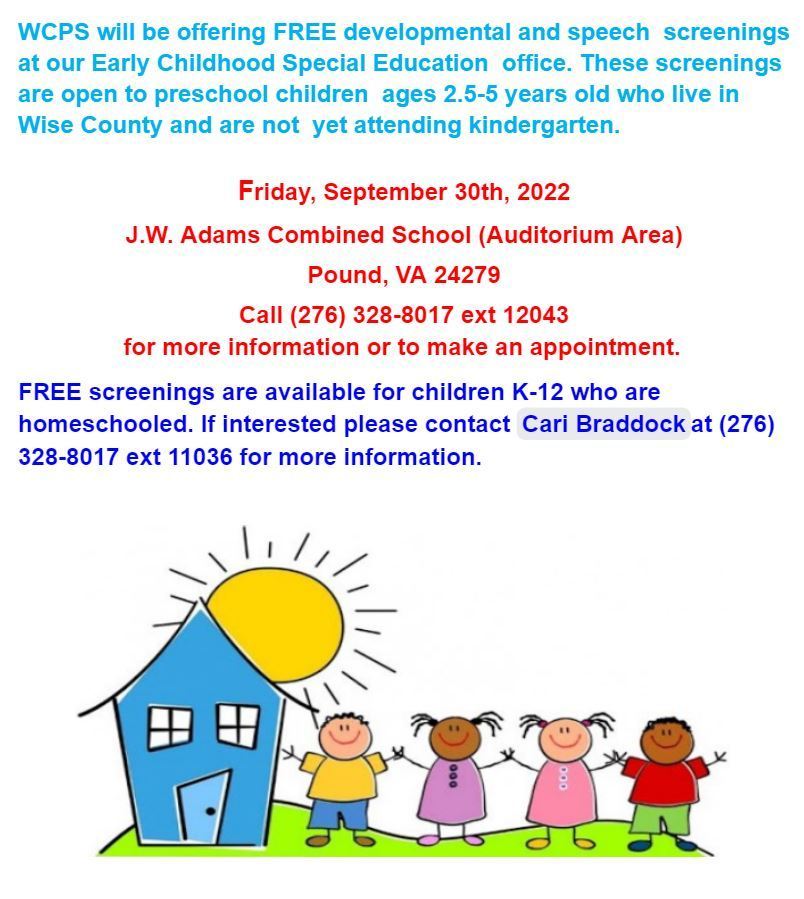 The Wise County Health Department is scheduling appointments for any students that are still needing vaccines to meet school requirements, particularly the meningitis vaccinations for our seniors. You may schedule an appointment by calling 276.328.8000

All WCPS Schools and Offices will be closed tomorrow, Monday, September 5, 2022!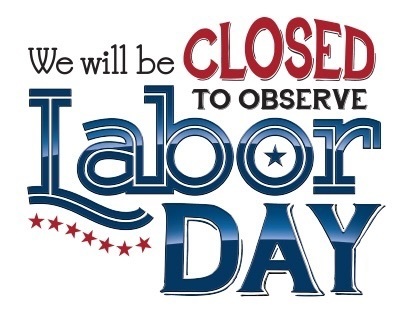 Virginia Department of Social Services Statement on Summer 2022 P-EBT The U.S. Department of Agriculture has authorized the Virginia Department of Social Services to provide Summer P-EBT to K-12 students. All school-age children who attended a school last year, school year 2021-2022, that was approved to participate in the Community Eligibility Provision (CEP) or who were determined eligible to receive free or reduced-price meals are eligible for Summer 2022 P-EBT. All eligible students enrolled during the last month of school year 2021-2022, including new high school graduates, can expect to receive a one-time summer benefit of $391 beginning on August 25, 2022 on their previously issued P-EBT or SNAP EBT card.  If you do not have an existing P-EBT card, or your information has changed since you last received P-EBT, a card will be mailed to the address provided in your student's school record within 7 to 10 business days. To request a replacement for a lost or discarded P-EBT card, contact ConnectEBT at 1-866-281-2448 or logon to 
https://www.connectebt.com/
or download the ConnectEBT app on a mobile device. Contact VDSS with questions about P-EBT at one of the following contact points. Do not contact your child's school or central office for P-EBT information. P-EBT Call Center 7 a.m. - 7 p.m Monday - Friday and Saturdays from 9 a.m. - 2 p.m. at 866-513-1414 or 804-294-1633 or use the P-EBT Online Inquiry Form.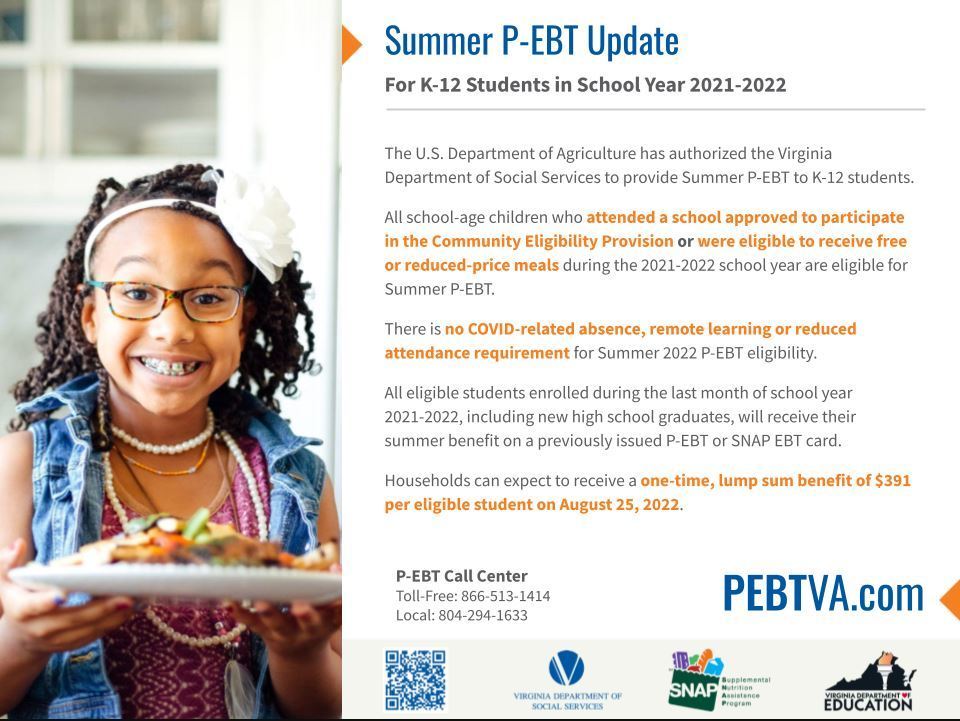 The Special Education Advisory Committee will have a virtual meeting on Thursday, September 8, 2022 @ 10am. This meeting is open to the public. All staff and parents of private school students, as well as parents of home-schooled students, are invited to participate. Please Contact Cari Braddock at 276-328-8017 for information on how to join the meeting.

Does your child like mountain music? Do they want to learn to play a traditional Appalachian musical instrument? Pro-Art is partnering with Wise County Public Schools for the Junior Appalachian Music School, a program that teaches children grades 3-8 to play traditional mountain music. Students can choose between guitar, fiddle, and banjo! To register your child for Wise JAMS, please visit
www.proartva.org/wisejams
and fill out the registration form. Pro-Art also has a limited number of instruments available for semester-long loan. To request an instrument, please fill out the form on our website. Open to grades 3-8 from Wise Primary School, L.F. Addington Middle School, and J.W. Adams Combined School. Lessons this semester will be held at L.F. Addington Middle School each Wednesday 3:45-5:45, beginning September 7 and ending December 7. Bus transportation will be provided from J.W. Adams Combined School to L.F. Addington Middle School. Parents or guardians will be responsible for picking up their children from the lessons. Full tuition is $10 per lesson, half tuition is $5 per lesson. Discounts are available for parents who wish to pay in full. Scholarships and tuition waivers are also available. There will be a short meeting for parents at L.F. Addington Middle School on Tuesday, September 6, at 4:00 PM at L.F. Addington Middle School, to discuss the program and to address any questions and concerns. For more information, please contact Lloyd Tomlinson at
pro-art@uvawise.edu
, or at (276) 376-4882.

Our division has consistently ranked in the top 10 in academic performance across the state for nearly a decade. This is a direct reflection of the people we have in our school system. We are extremely proud of our hard working students, faculty, staff, and communities and celebrate our most recent raking of 3rd in the state!

Wise County Public Schools is participating in the ViSSTA Testing Program offered through the Virginia Department of Health. For your child(ren) to participate in this program, please review the information via the link below and complete the consent form that is linked within and also provided below. ViSSTA Program Information -
https://drive.google.com/file/d/1xmBM8rsNo1iPlwXyzhMvuAUMLJ1n36Vb/view?usp=sharing

Due to a power outage at the school, St. Paul Elementary School will dismiss at 11am today, Friday, August 12, 2022! St. Paul Elementary is the only school that will be dismissing early! While all students are receiving breakfast, students will not have access to lunch before dismissal.



From our Early Childhood Special Education Program: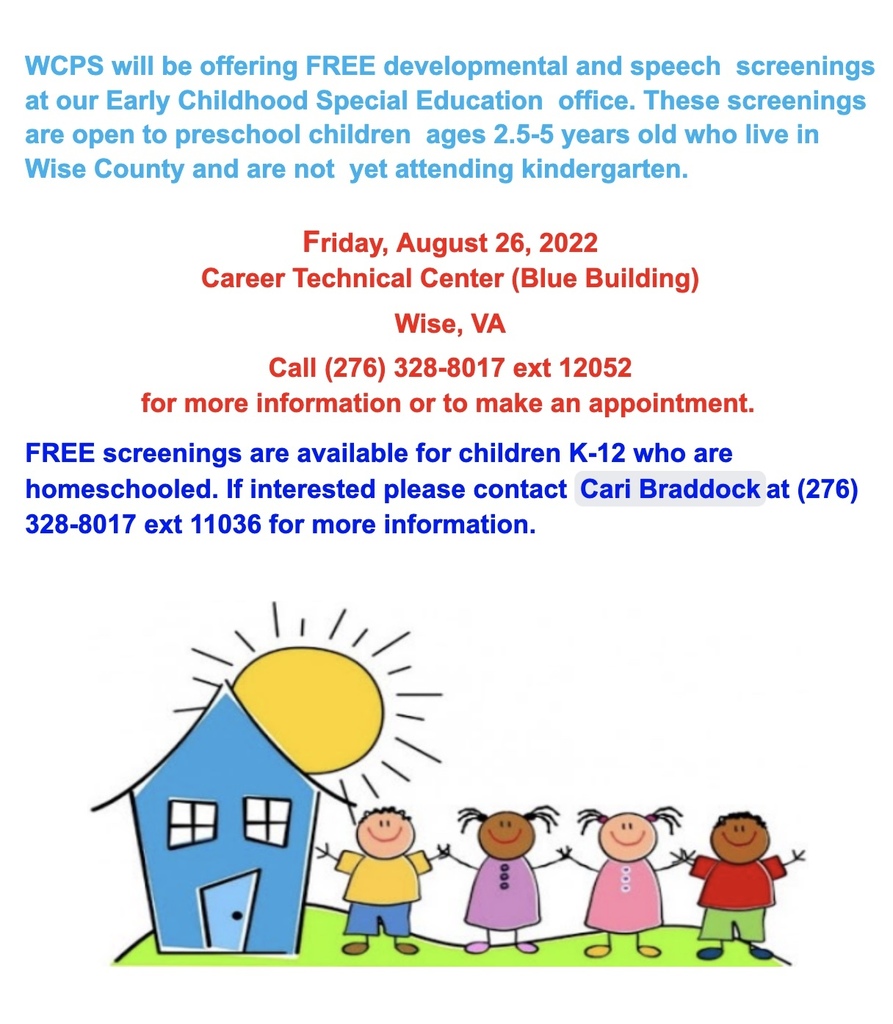 We are EXCITED to welcome our students back to school tomorrow (8.4.2022). There will be students at bus stops and a lot of traffic around our schools so we ask that everyone be alert in the morning! We are looking forward to a great school year!